Thinking Skills Club Founder Mitch Moldofsky's E-Book "Braiming" Examines The Pros And Cons Of How Computer Games Affect Young Brains
In straightforward English, Thinking Skills Club founder Mitch Moldofsky offers insights into how computer games affect the children who play them. Topics include violence, addiction, gamification, the use of games in school and the brain game industry.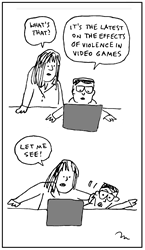 Kids love games, but do games love kids? This is the central question of
Braiming: How Computer Games Affect Kids Brains,
a new e-book by Thinking Skills Club founder Mitch Moldofsky. The book is aimed at parents and teachers who wonder what the near and long term consequences are of their children's gaming habits. Many feel like helpless witnesses to an alarming trend, as smartphones and TV console controllers become appendages of their young charges.
Moldofsky is the father of two boys who are active in sports but also play games over the internet. While studying Cognitive Science at university, he started to see computer games popping up in therapeutic settings, such as a treatment for ADHD. He also saw studies that made a seemingly odd link between apparently mindless—and often violent—online games and cognitive gains in areas such as visual attention and working memory.
This set him on a course to discover what actually happens in the brain when a child plays a game, and how that relates to external consequences.
For instance, just what are the effects of seemingly violent games in terms of behavior? Citing many sources and opinions, Moldofsky shows that there are both positive and negative effects, and the negative ones depend mainly on experience: those users who are more passive to start with are most influenced by aggressive thoughts and attitudes, while the main group using the games—boys—are the least affected.
Moldofsky goes on to address the controversial issues of video game addiction, the "gamification" of education, and using video games to enhance the curriculum in schools. Finally, he discusses brain games, such as are offered by his own company, the Thinking Skills Club, finding the industry to be in its baby stage even as it enters the mainstream.
An e-book,
Braiming: How Computer Games Affect Kids Brains
will be available exclusively on Amazon KDP Select sometime this summer. Those interested in getting a free copy can sign up on the Thinking Skills Club website to be advised of the five promotional giveaway days Amazon offers during this period.
About Mitch Moldofsky
Mitch Moldofsky is an instructional designer and elearning consultant with a B.Sc. in Cognitive Science and Psychology. He created the Thinking Skills Club to bring brain training to schools in a fun, easy to use way. He also draws Chalkles, a cartoon on the theme of Technology in Education at the education publishing website, Edreach.us.
About the Thinking Skills Club
The Thinking Skills Club curriculum of online games helps children in grades 3-6 develop working memory, focused attention, executive function skills and other cognitive abilities. Ideal for use as an after school club, at homeschool or in the classroom.
Source:
Toronto, ON (PRWEB) June 29, 2014